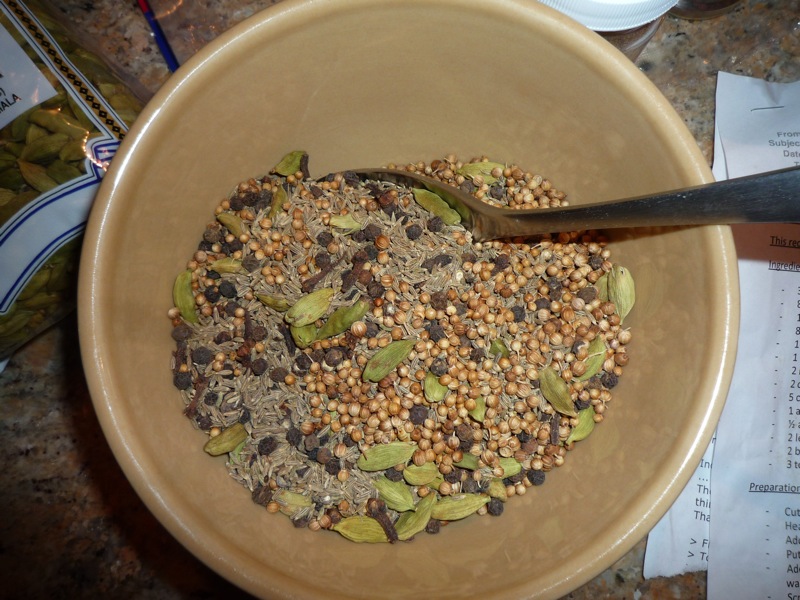 Lamb to Cookie Takedowns
You are looking into a bowl of fresh, whole spices. The aroma from the cloves, black peppercorns, cardamom pods, cumin seeds, coriander seeds filled my entire kitchen. This was my first time working with whole cardamom. I fell in love. I was doing this experiment because I had recently accepted a spot as a chef in Matt Timm's Lamb Takedown. Matt had put on a few of these challenges ranging from chili to bacon to tofu. This time I was in on the action.
This post dates back to October. It has been one of those long ignored posts that's been burning to be completed. Yesterday was the Cookie Takedown and I thought it only appropriate to do a "Takedown" post. I was only an eater at the Cookie Takedown so before we get to the cookies lets go a bit deeper into the Lamb.
The whole thing began with a random mid Tuesday text from my buddy Jeff. It went something like this; Spot open 4 lamb tkdown. u in? need to know immediately. I jumped at it and the process began. First I needed to consider my cut. Lamb orders were being placed in a few days. That meant I needed a recipe. After scouring the recipe box and my memory banks for fun and interesting lamb options I came up empty. I started running my mouth to Preethi about the competition and she claimed her mom did an amazing curry lamb. This got me thinking that an east India meets west India dish would be fun. A day later Mrs. Swamy's curry lamb recipe arrived in my inbox. It looked great and with Preethi's endorsement I needed no more convincing. With the east Indian part down I needed to work on the west Indian. One of my favorite things from the west Indies is the roti's. I love a good curry goat wrapped up in a fresh roti from some roadside shack. After doing some research on where the hell to get fresh roti's in NYC I had almost all the pieces of the recipe in place. I'd get my roti's from a Trinidadian bakery out in Queens and my 15lbs of boneless lamb shoulder would be donated by the American Lamb Board. The spices above were all obtained with a short trip to curry hill. The only piece I was still missing was a sous chef. Cooking 15lbs of lamb by yourself is tough. Serving 15lbs of lamb by yourself is even tougher. It didn't take too long for me to identify the perfect sous chef, It was just a a question of would she accept.
Two weeks later the Takedown was just 24 hours away. My sous chef, Preethi, had gladly accepted (after all it is her mom's recipe. Who better for the taste test?) and we were in deep cooking mode all weekend. After we made the run out to Ozone Park for the roti's we were locked down in my apartment making the batches of lamb curry. Here is the process we repeated four times. We finished the last at 3am the morning of the Takedown.
Step 1: mince the garlic and ginger
Step 2: saute dry spices and then grind in a coffee grinder
Step 3: mix garlic, ginger and yogurt
Step 4:  Saute lamb
We decided to saute all 15lbs of lamb first before we started building the curry. Here it is in all its cooked but unflavored glory. Notice Preeth's right bicep straining to hold the bowl up. That's a ton of lamb.
Step 5: making the curry required combining the yogurt mixture and the dry spice mixture until you have a paste. In the bottom of this big pot we start with onions then added some of the paste on top of that. Next in go the tomatoes and some water. Next dump in some lamb. Bring it all to a boil and you get a full pot of curry lamb like this.
Step 6: transfer all that to a pressure cooker for 15 minutes and then you are in lamb curry heaven. BUT, for us we needed to do that 3 more times. After our fourth batch we caught some sleep until assembly time about 4 hours later. A quick batch of saffron rice and the still warm rotis completed the makeshift assembly line built on my kitchen table.
30 rotis later we were ready to transport and serve at the Takedown destination. The only thing left to do was name our tasty creation. An hour later our Lambtastic Baahsmati Rolls were hot and ready for eating. Below is the final delicious product. The recipe is listed in detail at the bottom of this post. We served over 150 bites, made a bunch of friends but. alas, came home prizeless. I always say that it is about the experience and not whether we win or loose. That holds true for this competition as well.
All the entries were delicious and well executed. Funny enough, first place went to my buddy Jeff who had sent me that cryptic txt weeks earlier.

On to the cookies. Like I said, we were eaters at this event so the pressure was off but the sugar high was definitely on. The Cookie Throwdown took place at the Bell House in Brooklyn yesterday. We went out in the snowy, chilled evening to support Mr. Matt Timms and the Bean and Apple team. Aimee (bean) is my co-chef for REEL TASTY, our little brooklyn supper club. Aimee made 300 hundred of her famous Oreo Cookie Cookies. Yum! Although we were biased there were some other delicious cookies in the competition.
I think the best way to see all the entries would be with the below slide show. There were over 25 entries so forgive me that I don't remember what is what. Those that were smart put a sign with the description near their tray.
With full plates Preethi and I got to the tough business of determining what was the tastiest sweet.
In the end it came down to 3 choices.
1. Aimee's oreo cookie cookies
2. The Dark and Stormy (rum and ginger) cookie
3. And Emily's chocolate ship with salt and caramel
We rolled out of their before the judging but heard that Aimee and Eric took second place and Emily took first. Not bad for our friends or the quality of our palettes. Whew. Long story. Big post. Lots covered. I am glad I got it out. These Takedowns are lots of fun for both the chefs and the eaters. Keep up with Matt and his latest takedowns here. Below is the lamb curry recipe. Enjoy.
Rogan Ghosh (Lamb Curry)
This recipe is for 4 people:
Ingredients
– 3 lbs of LEAN shoulder of lamb
– 8 cloves
– 15 black peppercorns
– 8 cardamom pods
– 1 level tablespoon of cumin seeds
– 1 heaped tablespoon of coriander seeds
– 2 rounded spoons of desiccated coconut
– 2 ounces blanched almonds
– 5 cloves of garlic
– 1 and a ½ inch piece of ginger
– ½ a level teaspoon of ground mace
– 2 level tablespoons of natural yogurt
– 2 big onions
– 3 tomatoes
-Gram masala
Preparation
– Cut lamb into one inch cubes; Discard fat
– Heat four tablespoons of vegetable oil in a large skillet
– Add meat a few pieces at a time in the skillet and fry until sealed on all sides
– Put lamb on paper plate to drain
– Add cloves, cardamom, peppercorn, cumin, coriander, coconut, almonds to the oil that the lamb was fried in; fry for a few seconds
– Scrape pan and put the fried mix into the food processor with peeled and roughly chopped garlic, peeled and roughly chopped ginger, mace and yogurt
– Grind until you have a smooth paste
– Peel and slice onion; chop the tomato fine
– Add 4 tablespoons of oil in the pan, fry onions quickly until brown, reduce heat and add paste, cook for five minutes
– Add tomatoes and one cup of water; and bring to a boil
– Reduce heat cover for 15 minutes
– Add the meat
– Add 3/4th teaspoon of salt
– Bring to a boil and then transfer to a pressure cooker for 15 minutes (be sure that there is enough water in the pressure cooker but not too much that the curry gets watery); pressure cooking is the preferred method
-Remove from heat and add 2 tbs of Gram Masala
– Technically the meat is best served the next day; ie after it is cooked; overnight in fridge and then heat the next day; but it can be served right after